Source: Mobile report 2017-7-14 15:56
The Potential of Location Marketing
The Potential of Location Marketing
Marketers now understand the importance of having a relevant, user-friendly app and keeping themselves updated about the latest happenings in the world of mobile phones. The recent buzz of location marketing has made a lot of marketers quickly purchase beacons and other location devices for sending location-relevant messages to the users.
But are you getting the expected results? Probably not! This is because it is first important to have a good location marketing strategy in place. The strategy should consider the business objectives or else all your efforts and investment will go down the drain. Downsize the location-based messaging for meeting particular goals and focus on providing a rewarding experience to the app users. Valuable and relevant location-based marketing is an excellent way to build long-term relationships with your customers.
Let us try to understand the type of content that you can serve with this technology and how to use it to get maximum results.
Understanding Building
To understand the type of information which will be useful to your users, you should first try to understand how the users use your app. There can be a significant difference between what your app is designed for and what users actually use it for. Understand this difference to build a relevant strategy.
Next step is to combine some common sense and analytics to determine the messaging density and usability. Try to think from the user's point of view. For instance, what will you do if an app in your mobile phone regularly sends push notifications, downloads content you will never use, or asks about your location? You'd definitely delete it! Don't let this happen to your mobile app.
You will also delete the apps which you never use and even the ones that fail to provide useful content. Your job here is to find a sweet spot between the two extremes. People don't like to share locations through apps they don't really find very useful. On the other hand, if users love your app and know that you offer valuable content, they'll be more than happy to share their locations, knowing that you will use the information to provide an enjoyable experience.
The most important thing with location-based marketing is using the location data for delighting the users- providing great experiences which they know can only be obtained when they share their location.
Location marketing further breaks down into two important components- macro and micro.
Utilizing Macro Locations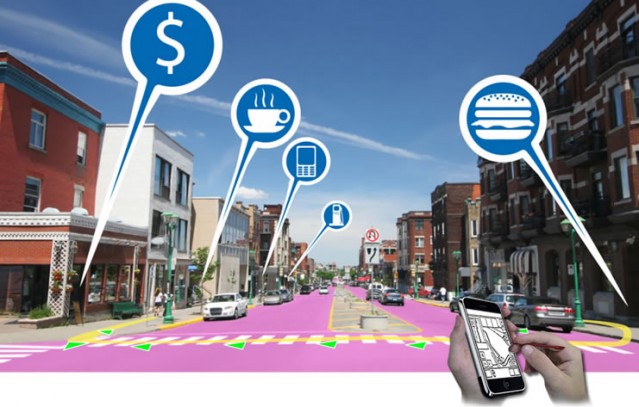 Macro-location based marketing uses the longitude and latitude coordinates that are synced with the GPS and Wi-Fi hardware in the phones of the users. When users opt-in they cross a geofence created by you and this triggers the location-based messages.
A major advantage of macro location marketing is that it allows you to team the messages to physical locations where beacons cannot be placed. As the trigger is just geographical coordinates, theoretically, you can create a geofence just anywhere with minimal expenses for set-up and maintenance.
Also, while most of the users do not have Bluetooth enabled on their mobile phones, Wi-Fi and GPS generally remains enabled at all times. So, if the users are running the mobile app and are opted-in, they will definitely receive your location-triggered messages.
Leveraging Micro Locations
Micro-location marketing generally refers to Bluetooth beacons which are transmitters that emit low-power signals. You can place these beacons anywhere and the users nearby can opt-in to receive Bluetooth signals along with the messages that you send. The GPS hardware of a mobile phone is not involved in the process.
While beacons are currently a buzzword in the marketing industry, it is important to know that they are only as useful as the information they provide. Without mapping specific beacons to specific opt-ins, you will only get to know that someone was close to your beacon and opted-in to receive your content.
A handy tip for store owners is to put the beacons in particular aisles. For instance, Home Depot uses beacons to provide them real-time data with respect to which displays and services in the store users are most interested in and the ones that are not as engaging. With the help of this information, they are able to create merchandising which is more customer-friendly.
Another great example is Monterey Bay Aquarium. The beacons here not only provide detailed information about all the animal exhibit but also allows the users to know where particular exhibits are. For instance, if a user wants to see octopus, they can use their mobile phone to reach the beacon close to octopus.
In both these examples, the beacons are being used to provide information which users actually want at places and times which are useful to them. This is the right way to do micro-location marketing.
But it is important to note that most of the users generally keep Bluetooth disabled on their phones. Apart from consuming battery, a lot of users also consider it a risk to their security. If the users do not have their Bluetooth enabled or don't know how to enable it, your micro-location marketing would be of no use.
What Should You Do?
The marketing power that location-based marketing offers brings in a lot of responsibilities too. For instance, if you place geo-fence throughout the city and then bombard the users with location-based messages every now and then, the most loyal of user would most probably delete your app. They might even disable you from monitoring their location.
It is not necessary to get so impersonal with a marketing strategy which can be so easily used to your advantage and enables you to do so many different things for your business. For instance, location data is used by Redbox to let the users know the location of the closest DVD-rental store. Also, a lot of banks now use the strategy to help users know the closed ATM.
No matter if you own a chain of physical stores or an amusement park, location marketing has the potential to engage the users in very powerful ways. Understand the actual benefits and how you can put them in a real-world strategy to offer a delightful experience to your customers.